Welcome to the Temeda API portal
Securely view, analyze, and manage your telemetry devices and account data with the Temeda API Portal. Developers can use this portal to discover and learn about the comprehensive list of RESTful JSON-based APIs that make up the Temeda platform. Get access to your data by signing up below!
API Documentation
Check out the Temeda API Documentation, which describes how to use our RESTful APIs and includes code samples in multiple programming languages. The API Console allows you to directly interact with the API right here in the developer portal.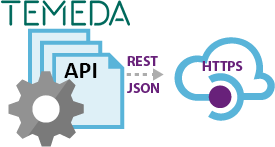 Getting started with our API
The Temeda API Portal is also home to the AT&T Equipment and Machinery Solution API.